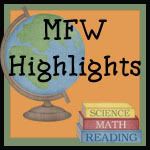 Hello!! I hope that everyone has been enjoying their summer!!
I have had several comments asking if I plan to continue to host MFW Highlights for this upcoming school year. Sorry for the delay on answering, not to mention my lack of posting…….we recently moved and life has been a bit busy!
So, yes I do plan on it, with the continued help of Monica from Discover Their Gifts. Together we plan on hosting a weekly link-up for families using My Father's World, to share what fun and exciting things they are doing in their homeschools.
I am having another little ladybug in 8 weeks, so Monica will take the reins and will be hosting the first several weeks…..or months :0)
Monica plans on starting the link-ups after Labor Day.
So stay tuned for more information. Happy planning for the upcoming year!