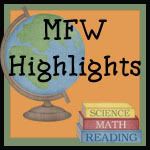 We are using My Father's World Creation to the Greeks this year. I'm not much into using index cards, I just picture them getting set down everywhere and getting lost. So for our Greek roots vocabulary we doing it a little different.
I picked up some simple spiral bound white story notebooks from Miller Pads and Paper at our local homschool convention. Big Ladybug covers the front with some scrapbooking paper and brads to pretty it up.
Then on the inside she gets to illustrate the word and write the meaning. This may not work for all kids, but she loves to draw so she enjoys this.
We used this for our geography vocabulary for ECC last year and are also using this for our Bible History Notebook this year.
They have worked great so far and everything is stored in one spot, which makes my life easier.
Link up below to share your ideas or how your week went using My Father's World!
Also if you linked up last year and added the button to your blog, that code links to last year's info and guidelines. Please grab the new updated code under the button for this year. Thanks!