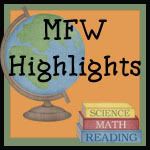 "Olá!" The last two weeks we have been traveling through Brazil and here are our highlights.
Bible:
Continued reading in the book of Matthew.
Read about missionary Nate Saint and his airplane travels and experiences with the Auca Indians.
Geography:
Enjoyed playing the geography game….we are getting pretty good at it!
Science:
Animal Focus: Big Ladybug picked the sloth to learn more about.
Enjoyed reading more about the rainforest.
Art:
Rainforest thumbprint art….printed from 1+1+1=1. We didn't have washable ink pads, so the girls just colored their fingertips with washable markers, it worked well.
Cooking:
Brigaderirous cookies….rather chewy, but the kids liked them.
Whipped avocados…..yum!
ECC CO-OP:
Harvest Party with some pumpkin carving and a lot of fun!
"Tchau" (chow) Brazil……we are off to Norway!
Link up below to share your week in My Father's World.
(Next weeks link-up will be hosted by Monica at Discover Their Gifts.)