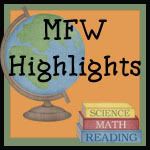 We traveled through Norway the past two weeks, and here are some of our highlights.
Bible: continued reading in the book of Matthew
Science:
coniferous forests

animal focus: Chipmunk

nature study: Fall Colors….check it out

here

.
ECC Co-op:
science: map a forest area
art: rosemaling for the girls…..Viking hats for the boys
Watching Linnea's rosemaling tutorials on YouTube really helped to learn the technique of Rosemaling. Freehand and Freehand Flowers.
cooking: fruit soup…..yum!
Please link-up below to share your experiences and fun using My Father's World.
There will not be a new link-up next week. The next link-up for MFW Highlights will be December 1 at Discover Their Gifts………Happy Thanksgiving!!