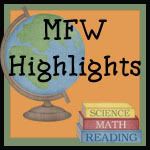 We are traveling through Brazil this week focusing on the tropical rainforest and the creatures that live there.
We added to our Around the World Lapjournal.
Geography:
located Brazil on the map
discussed the different biomes of South America
learned the difference between a hill and a mountain and the correct terms for each. (we really like the Beginning Geography workbook).
Science:
Read The Great Kapok Tree and did rainforest lapbook. (printed from Homeschool Share)
Made 3-D rainforest from Rod and Staff Hearing and Helping fun workbook.
My kids really enjoyed the National Geographic Totally Tropical Rain Forest dvd
Bible:
Continued reading in the book of Matthew
Verse: Matthew 5:14 "You are the light of the world. A city on a hill cannot be hidden"
ECC Co-op:
made art inspired by South/Central America (I lead the art for co-op and I didn't care for any of the suggested art projects from Brazil, so we opted to do a different one from the Global Art book from the South and Central America section.)
pick out 2 or 3 fabric pieces to cover a piece of cardboard.
staple or tape them on.
draw a design on the fabric with chalk
use your scissors to cut through the layers of fabric to make your art (you just need to make sure you are only going through the layers you want to cut.)
The kids seemed to really enjoy this project.
Link up below to share your week in My Father's World.