Well I had to dust off my keyboard…………..kinda had an unplanned hiatus from blogging over the holidays.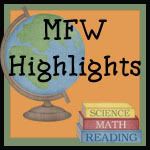 We returned to school and had a smooth transition back into the routine. We traveled to Germany and here are some brief highlights.
Bible: Missionary studies and character traits of Martin Luther and John Wesley.
Science:
1. Read about lakes/ponds, and freshwater plants and animals.
2. Learned about the parts of a river in Beginning Geography workbook.
3. Researched about turtles.
Cooking: We made potato pancakes and the girls loved them!
And it has gotten pretty cold here, so we have been trying to stay warm :0)
How has your week been traveling in My Father's World? Link up below to share! Next week will be hosted by Monica at Discover Their Gifts.