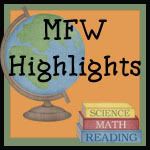 Here are our highlights from our travels through Japan. Sorry there was no link-up last week……Monica was so busy finishing her school year and planning her summer gardens, it slipped her mind :0)
Art: Big Ladybug made a tree blowing paint with a straw. The idea for this particular painting came from It Happens In A Flash. I also have the The Usbourne Art Treasury book which has detailed instructions.
The kids also enjoyed making carp kites printed from Activity Village.
Co-op: The kids erupted the volcanoes they built a few weeks ago.
And we enjoyed a trip to our local Japanese Steakhouse……yum!!!
If you would like to share your week using My Father's World, link up below. Also, I hope you all had a wonderful Easter and Monica at Discover Their Gifts will be hosting the link-up next week!