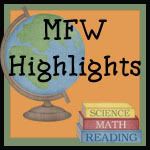 This week Monica at Discover Their Gifts is hosting MFW Highlights! Head over and check out what fun everyone is having exploring with My Father's World!
This week we completed our introduction to the world.
Bible:
How people began to speak different languages
There is only ONE God for the WHOLE world
And this good news is for ALL people
Big Ladybug also began her prayer journal. (I just love her drawings!)
Science:
What is a Biome?
What types of plants and animals live in each biome?
Nature Walk:
This kids and I walked the neighborhood collecting leaves and bark. We put them in a heavy book between pieces of paper to dry. We will be making art with them later.
Animal Study:
Last week we did a farm animal, this week we looked at a pet. Big Ladybug chose a dog to lapbook.
Geography vocabulary notebook
The 4 Oceans
Symbols on a map
These are pages from the Beginning Geography workbook.
ECC Co-op
Art
The teacher's manual suggests paper dolls, but I ran across this on Art Projects for Kids. I loved that it included their hand print and they got to use oil pastels. (It suggested textured paper, but I think what I provided was a little too textured.)
Nature Study
The kids went creekin' to see what they could find living in the water. They are always up for tromping through the water!
I'll be hosting the MFW Highlights next week and look forward to seeing what everyone has been up to!
Did you know??
Dogs often hesitate before going out in the rain. It's not because they're afraid of getting wet, but because the rain amplifies sound and hurts their sensitive ears.